It may not feel that way, but we Mac users have now had quite a long run with OS X. We're coming up on 12 years since the first public release of the operating system (and even longer if you consider the betas and developer previews), and we've seen OS X go through plenty of changes during that time. Indeed, even Mac veterans may—with the passing of the years—have forgotten just how shaky some of those early OS versions could be.
Don't remember what OS X used to look like back when dinosaurs used to roam the planet and Apple's OS ran only on PowerPC processors? We've mined more than a decade of our own OS X reviews—studiously authored by John Siracusa—for screenshots and other OS X-related memories that trace the development of Apple's desktop OS through the 2000s. If you're interested in seeing how various UI elements have evolved over the years, strap yourself in for this safari showcasing OS X's big cats…
Mac OS X 10.0: Cheetah
OS X was officially released to the public in 2001 after a rollercoaster series of developer previews, some of which barely resembled the final product. Because it was brand new to most users coming over from Mac OS 9, the new OS featured a number of "shocking" interface elements, such as the new file browser: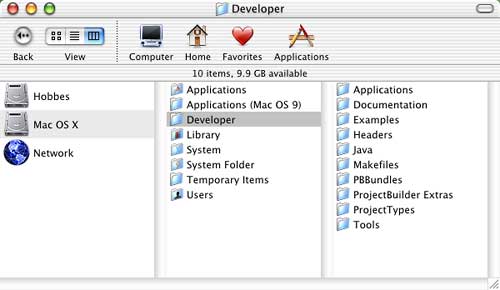 And because so many users were still making generous use of their OS 8 and 9 applications, OS X featured a "Classic" mode. Take a look at 10.0′s Classic mode settings panel: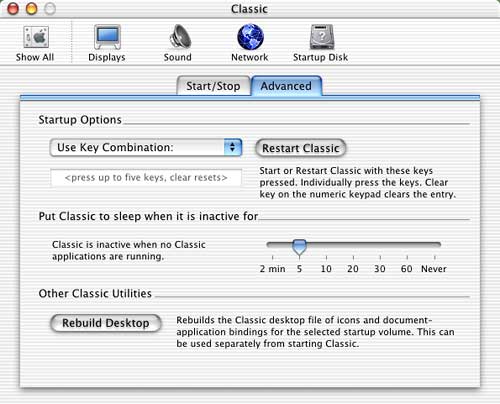 In his review of Mac OS X 10.0, Siracusa concluded with this fairly mixed verdict:
Mac OS X shows tremendous promise, which is a nice way of saying that the 10.0 release is not quite ready for prime time. This is most certainly an early adopter's OS release. Interface responsiveness and effective stability are the two biggest fundamental problems, but missing features and compatibility issues rank just as high if you actually intend to use OS X as a full Mac OS 9 replacement: the 10.0 release cannot view DVD movies; printer drivers are still scarce; CD burning is not yet supported, even by Apple's own iTunes CD authoring application; and a lot of hardware (like my G3/400′s serial port adapter to which my printer is attached) seem destined to be orphaned forever.
Perhaps the most important feature of the 10.0 release is the Software Update preference panel. A 10.0.1 update that includes a new kernel and classic environment, SSH support, a slew of updated drivers, and many other small fixes has been circulating on the net, and may be released by the time you read this. A regular series of free, network-distributed OS updates will go a long way towards making OS X fulfil even the limited promise of a first release of a brand new operating system. Let's hope Apple doesn't foolishly try to charge for the more significant upgrade due in time for July's MacWorld Expo in New York.
Unlike previous articles, this one was written almost entirely in OS X. I forced myself to do this, to some degree, and I certainly spent most of my time in classic applications like BBEdit and Photoshop even when running OS X. But the experience was at least tolerable, which is more than can be said for my experience with earlier releases.
Should you upgrade to Mac OS X? If you don't already have a copy (or plans to buy one), the answer is no. Most users should wait for a future release, and possibly new hardware to run it on. Should Apple have released OS X in its current state? I think so. Nothing stimulates application development like a shipping OS. Let's hope that the official release of Mac OS X also stimulates Apple itself to make improvements.
Mac OS X 10.1: Puma
The next major version of Mac OS X, 10.1, was released the same year (2001) as 10.0. Apple was quick to make some tweaks in the first six months. So what did it look like?
Here's Puma's Dock:
And the System Prefs: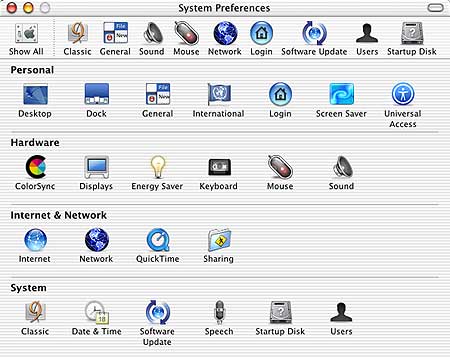 The Login window also sported this Aqua-fied look: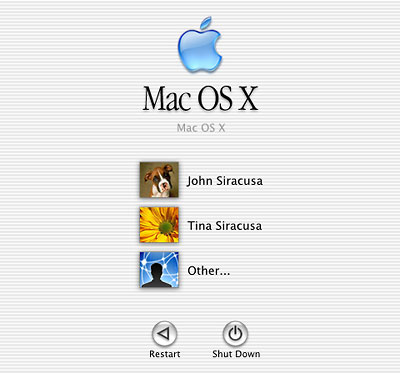 Siracusa's take was only a bit more positive this time around, and believing in the new OS still required nothing short of faith:
I wrote at the start of this article that I want to believe in Mac OS X. I want to believe that it will replace Mac OS 9 in a way that improves upon every aspect of the classic Mac OS user experience. Unfortunately, although this may still come to pass, Mac OS X 10.1 is not that version of Mac OS.
But 10.1 improves on 10.0.x in many important ways. Overall system performance shows the biggest improvement, but it is not as drastic as some reports may lead you to believe. Other areas have stagnated. The user interface has not made significant strides since 10.0.x. Many annoying bugs remain, and many features have yet to be implemented.
Should you purchase Mac OS X 10.1? If you already use and enjoy Mac OS X 10.0, you should run out and pick up a free 10.1 upgrade CD at your local retailer as soon as possible. If you tried 10.0.x and found it somewhat lacking, I recommend at least giving 10.1 a try to see if the improvements are enough to push you over the edge. If you are waiting for the point of no return, where Mac OS X is a a complete no-brainer upgrade from Mac OS 9, you'll have to wait a little longer. If you plan to run Mac OS X full-time, you should consider upgrading your RAM to what were previously through of as obscene levels (512MB or more). It will be the best thing you can do for Mac OS X, short of buying a faster Mac.
If you're not a Mac user at all, but are intrigued by the possibilities of Unix based operating system with friendly user interface (Linux fans, no flames, please), 10.1 is as good a version as any to dip your toe into. Windows users should not expect a feature set remotely comparable to Windows XP, but Mac OS X is different enough that it should still broaden some horizons. And Linux users might want to see how another operating system has chosen to build a GUI on top of a Unix core.
To amend my earlier sentiment, it might be more accurate to say that I want to believe not just in Mac OS X, but in Apple itself. I want to believe that they can produce the next insanely great platform: a powerful, stable OS with an interface every Mac user can love, running on stylish, high performance hardware. Both the software and the hardware end of that dream currently need work. And so the waiting game begins again, as Mac users settle in with 10.1 and prepare for the inevitable 10.1.x updates. Will there be more 10.1 users than there were 10.0.x users? Probably. But it says something about this supposed "mainstream release" of OS X when Apple itself is still selling all its hardware configured to boot into Mac OS 9 by default.
I want to believe. But it looks like I'll have to wait a bit longer.
Mac OS X 10.2: Jaguar
Jaguar was released in 2002, and with it came Quartz Extreme (a GPU accelerated version of Quartz Compositor). And thanks to Quartz Extreme, one of the more frivolous things it could handle was moving screensavers on your desktop: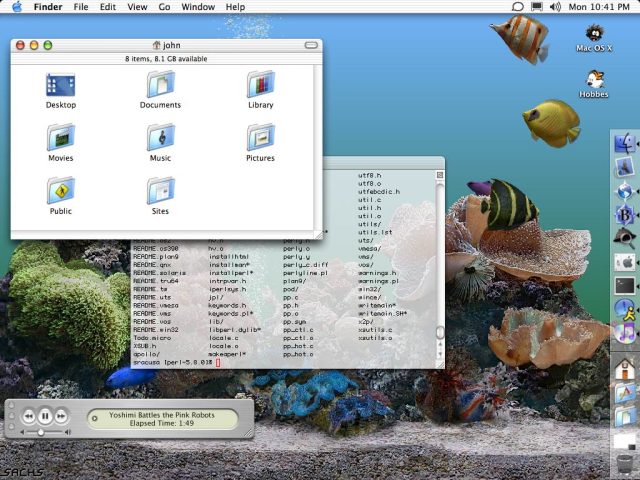 Jaguar brought the Finder toolbar search box: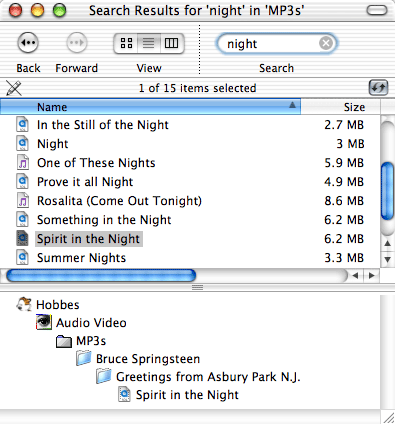 Apple's Address Book app made its first debut: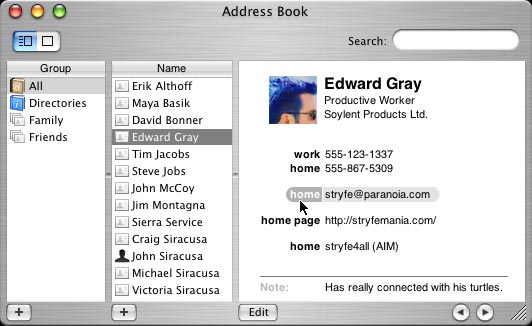 As did iChat (now known as Messages):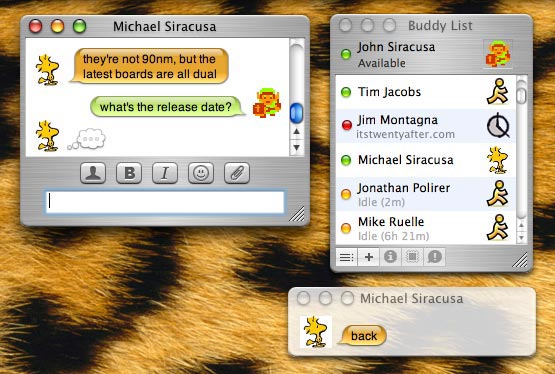 Sherlock also made its first appearance with 10.2 (R.I.P. Watson):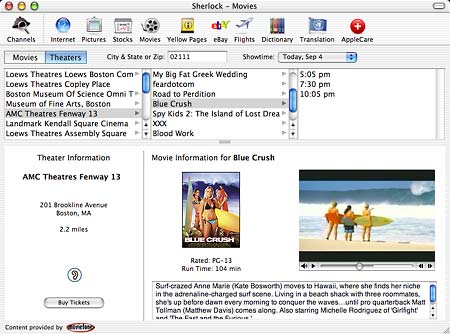 At the end of his Jaguar review, Siracusa still sounded the alarm about an "unfinished" OS:
Jaguar is a sprawling OS release, at least by Mac OS X standards. In this article I've covered the features and topics that I find most interesting, but there's just as much that I've missed. Mac OS X has reached the point where truly comprehensive coverage would require a sizable book.
But I will stop short of saying that Mac OS X has "matured." There remain too many "unfinished" corners of the OS. All the little details that used to separate Mac OS from more user-hostile OSes have not yet been added to Mac OS X. Even tiny things like the aesthetically unpleasing default placement of progress dialog boxes in the Finder (wedged into the upper-left corner of the screen, with no surrounding space) contribute to the feeling that there is still much work to be done to match the fit and finish of classic Mac OS.
User interface responsiveness continues to be an issue in Jaguar, despite significant strides in this area (e.g. QE). Booting back into Mac OS 9 gives an immediate impression of almost unbelievable speed, particularly when scolling or resizing windows. Unfortunately for Apple, despite the vast technical superiority of Mac OS X over Mac OS 9, perception is often nine-tenths of reality.
Although I tried not to rehash too many of my old issues with Mac OS X usability, not much has changed on that front either. The file system metadata issue in particular needs some serious attention if Apple wants to regain a leadership position in this area. I can only hope that a team of very smart people working in the bowels of Apple's secret software development labs are busy constructing a suitably modern metadata infrastructure for Mac OS X.
The Mac OS X Finder is improving, but progress is slow, and without any clear direction. As with the metadata issue, I can't help but wonder if a radically new Finder isn't in development at Apple. Surely the Jaguar Finder does not represent nearly a year's worth of developer effort on such an important part of the OS.
I'm not particularly optimistic about the Finder's future right now. It seems clear to me that no one with any authority at Apple understands what made the classic Mac OS Finder so good. Microsoft didn't understand it when it created the Windows file management interface, and it shows. So too does the Mac OS X Finder fail to live up to its namesake. The Jaguar Finder has improved enough since 10.1 to keep its head above water, but that's about it.
Many of the other usability problems can be papered over with the judicious use of third party software. Apple could stand to be more appreciative of the service its enthusiastic third party developers provide, rather than attempting to thwart their efforts when they conflict with Apple's vision of what customers "should" want.
On the bright side, although you can argue over the degree, there's no denying the fact that Jaguar is better than Mac OS X 10.1 in every important way. It's faster overall, it has more features, and it's generally more pleasant to use. If Apple wasn't so wary (rightfully so, in my opinion) of the branding consequences of reaching version 11.0, Jaguar would likely be Mac OS X version 10.5.
It's tempting to say that 10.2 is what 10.0 should have been. I certainly wouldn't want to show a potential "switcher" a version of Mac OS X other than Jaguar. But in the grand scheme of things, it was much more important for Apple to get the ball rolling with 10.0 than it was to wait until they'd gotten their feet under them to the degree demonstrated in Jaguar.
Mac OS X 10.2 has a suggested retail price of $129, and there is no upgrade discount for users who purchased version 10.1 in anything but the very recent past. Nevertheless, I think Jaguar is a must-have upgrade for anyone who uses Mac OS X on a daily basis. If you can stick it out with 10.1 until the next major revision, then you're a more tolerant person than I am.
Whether or not I'm ready to believe in Mac OS X, it's clear that Apple does. As classic Mac OS recedes into history, the reputation of the new Apple rests largely on the shiny, translucent shoulders of Mac OS X. Although Steve Jobs declared version 10.1 to be the "mainstream release" of Mac OS X, Jaguar, with its unique branding and pumped-up feature set, represents OS X's first real step into the mass market. I just hope it's got what it takes to make it. After all, it's a jungle out there.
Mac OS X 10.3: Panther
Panther was introduced in late 2003. With it came a brand new (to the platform) application switcher:

And more importantly, a new Finder window with a sidebar for navigating around different drives and directories. Check out that brushed metal finish: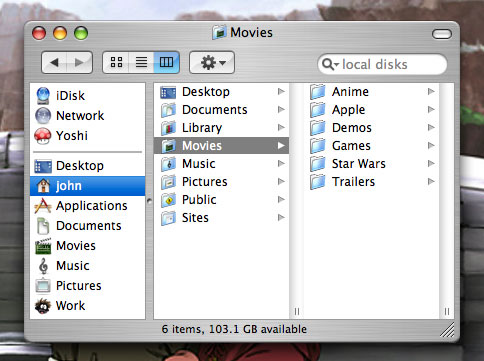 There was also the new Finder live search, which updated the results as you typed: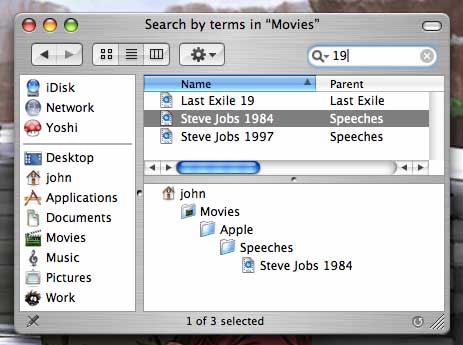 When concluding his 10.3 review, Siracusa wrote:
After rereading the conclusion of my Jaguar review, I'm tempted to simply copy and paste it here, substitute "Panther" for "Jaguar", and bump the version numbers by a tenth. That's not to say that Apple hasn't made progress with Panther, only that the overall improvement is somewhat comparable to that made in Jaguar.
This is nothing to be ashamed of, but the other side of the coin is that many of the year-old complaints also still apply: unpolished corners of the user interface, the Finder, the metadata situation, and even user interface responsiveness (to some degree) are all still issues in Panther. But I do think the overall rate of improvement is accelerating; it's just not distributed quite the way I would like. As with Jaguar, many problems can be overcome or avoided with the help of third party software.
For me, Fast User Switching, Exposé, the Unix changes, and the comprehensive performance improvements make Panther a more significant OS update than Jaguar. Like Jaguar before it, it is nearly impossible to recommend against upgrading to Panther. Mac OS X's development process is a train that's leaving the station with or without you. The message to users is clear: "Get onboard."
In the introduction I pondered the consequences of this juggernaut, with its annual $129 price tag and all the potential problems associated with the OS upgrade process. But if there's going to be any consumer backlash, it's not going to start with me. I think Panther is worth the cost, but I consider its price to be an investment in the future of Mac OS X—something I obviously have strong opinions about. I'm probably not a typical user, however. If Apple wants to help ease the burden of the larger Mac community, decent upgrade pricing would be a good start. With a yearly release schedule, that is nearly the same thing as a simple price reduction, but if so, so be it.
If you use Mac OS X every day, you owe it to yourself to upgrade to Panther. And as always, if you care about the future of the Mac platform, you owe it to your fellow Mac users to let Apple know what you think of its latest offering. If you're more technically inclined, please don't forget to file bugs. Apple can't fix what they don't know is broken.
Mac OS X 10.4: Tiger
Apple broke its annual release pattern by releasing Tiger 18 months after Panther in 2005. With it came the mature version of the live search introduced in Panther, in the form of Spotlight: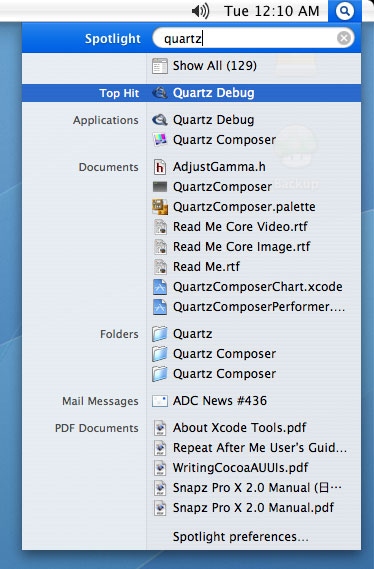 Apple also released a new, Cocoa version of QuickTime based on QTKit: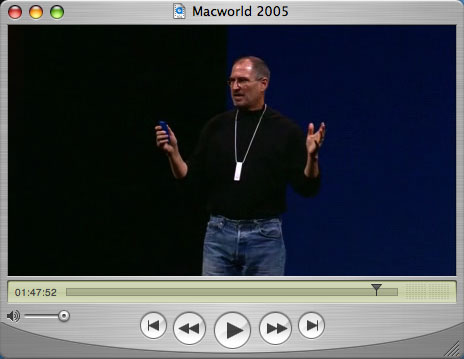 Tiger also heralded the beginning of the Dashboard, which continues to live (or hobble?) along today: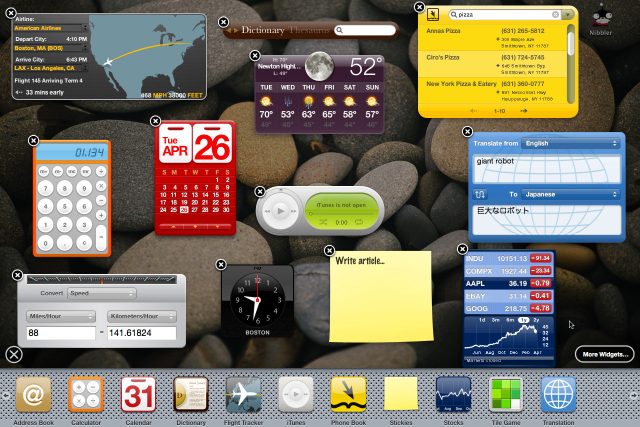 Apple also introduced Sync Services for the first time, which manifested itself in an updated .Mac preference pane: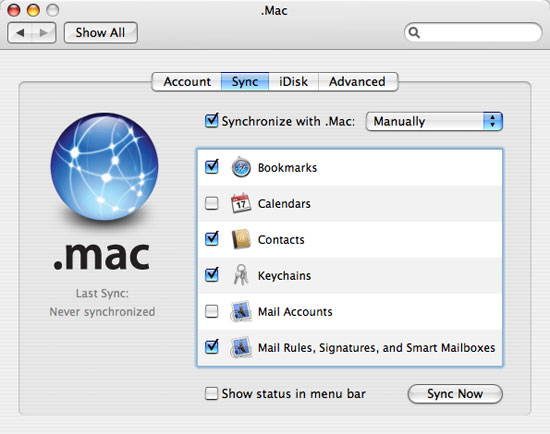 Siracusa was upbeat:
Tiger is the best version of Mac OS X yet. It offers substantial improvements over Panther in all important areas. The performance improvements are immediately noticeable. Every major bundled application has been improved. There's an unprecedented number of substantial, totally new features and technologies: Spotlight, Core Image and Video, Quartz 2D Extreme, Dashboard, and Automator, just to name a few.
This is all on top of the most significant revision to the core operating system in the history of Mac OS X. Fine-grained locking in the kernel prepares Tiger for future Macs with multi-core CPUs. A stable, abstracted, forward-compatible system for kernel extensions frees Apple to make more kernel changes in the future without worrying about breaking existing kernel extensions. And as usual, nearly every bundled Unix program has been updated.
For the first time in the history of Mac OS X, Apple has made progress in the realm of file metadata. While Spotlight plays it safe with external index files tracking information gleaned from existing file system metadata and file contents, Tiger's extended attribute APIs lay the groundwork for a much more interesting future. Uniform Type Identifiers add another missing piece to the metadata puzzle. If Apple can fully realize the potential of these budding, and still disparate systems, Mac OS X may finally catch and surpass the previous file metadata technology leader: the venerable BeOS. My fingers are crossed.
If you're still running Jaguar or earlier, you really owe it to yourself to upgrade to Tiger. It'll be the best $129 you've ever spent on an operating system. If you're happy with Panther, I strongly recommend going to an Apple store and checking out Tiger in person. Chances are good that there'll be at least one or two features that you'll decide you need, if not right way, then soon. As with any new release, it won't hurt to wait for version 10.4.1 or later.
Overall, Tiger is impressive. If this is what Apple can do with 18 months of development time instead of 12, I tremble to think what they could do with a full two years—let alone the length of time it took for Mac OS X 10.0 to first ship. The productivity of Apple's Mac OS X development team has increased tremendously since 10.0; they're now firing on all cylinders. While I dearly wish someone would steer them in the direction of the eternally neglected Finder, I can't help but be proud of the little OS team that could.
Mac OS X started its life as the most ambitious consumer operating system ever produced. Apple abandoned its existing, 16-year-old code base for something entirely new. Out of the gate, Mac OS X was a technical curiosity with few applications, and a performance dog. A scant four years later, Tiger is a powerhouse that combines the best Unix has to offer with a feature-rich, user-friendly interface. The increasingly capable bundled applications are just icing on the cake. We've come a long way, baby.
Mac OS X 10.5: Leopard
Apple stretched out its release cycle once again with the release of Leopard in 2007, more than two years after Mac OS X 10.6 was released. One of the things Apple changed was the appearance of Dock labels, now with a dark background: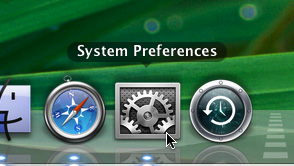 But much more controversially, the company also made its menubar semi-transparent, which generated howls among the Mac-user community:

At this time, Apple added Cover Flow view to the Finder: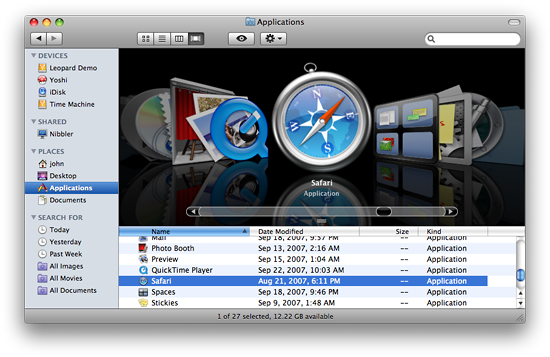 Apple also changed the ways folders behaved in the Dock. You could view it as a stack: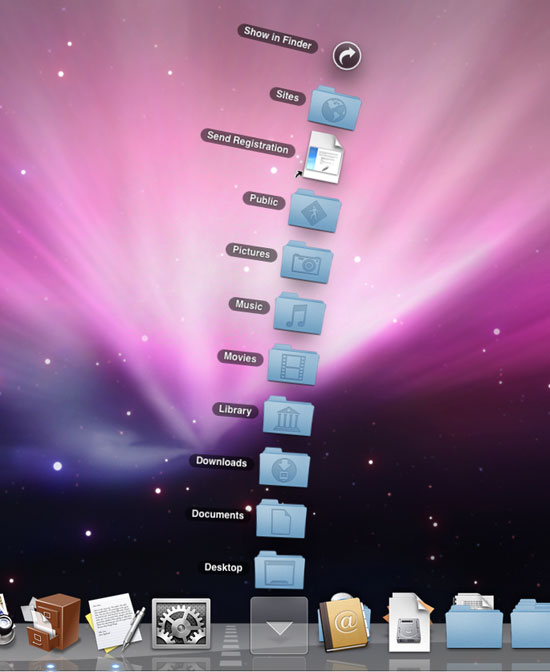 …or a grid: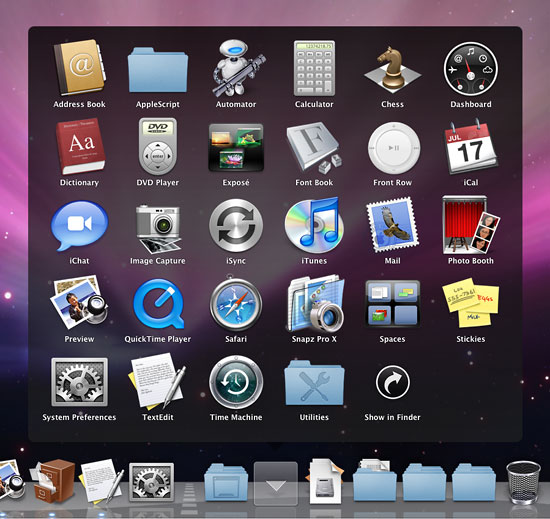 Leopard also came with the beginnings of Time Machine, Apple's built-in solution for automating backups: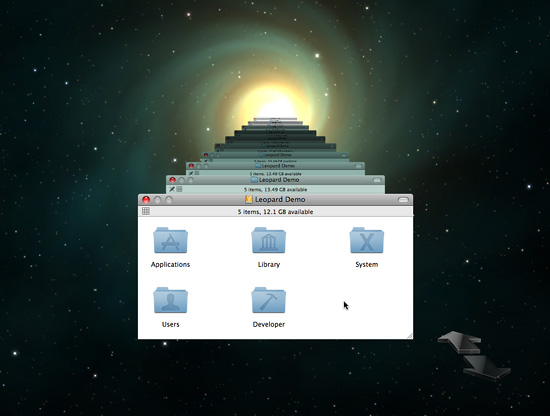 Siracusa concluded his review with:
I started this review talking about expectations. As I've learned more about Leopard, it's become increasingly clear where, exactly, those two-and-a-half years of development time went. Leopard is absolutely packed with improvements. It seems that not a corner of the OS has gone untouched.
Perhaps that's not as clear to the casual user who just sees the surface changes and the major new features in Leopard. But even in that case, there's more than enough to recommend it. If you're wondering whether you should upgrade to Leopard, the answer, as it's been for every major revision of Mac OS X, is yes.
I say this despite my deep hatred for many of the user interface changes. But perhaps I'm not representative of the average Mac user. In all likelihood, my hatred will translate into an occasional-to-persistent mild annoyance for most users. And truthfully, people can get used to just about anything (as the history of Mac OS X has shown).
I'm most excited about Leopard's internals. They're the star of this release, even if they don't get top billing. There's a good reason we've already seen so many prominent Leopard-only software announcements. This is where developers want to be.
Leopard's pull on developers will translate into better applications for users… eventually. In the meantime, I'm hard pressed to think of a single Mac user I know who wouldn't benefit from Time Machine's hassle-free backup magic. If you're looking for one reason to upgrade, this is it. Yeah, backups are boring, which is why you're probably not doing them regularly right now. No more excuses.
In many ways, Leopard feels like a new beginning. While Tiger consolidated the gains made in 10.0 through 10.3, pinning down APIs and dipping its toe into a few possible future directions for the GUI, Leopard charges bravely forward, choosing one particular new look and mandating it everywhere, redesigning all of the most prominent visual elements of the interface, and shedding old technologies like cat fur.
What's emerged is quite a strange beast: beautiful on the inside and, well, a bit unlovely on the outside. I hope a few years of user feedback will file down some of the sharper edges, even as my dream of a radical new look is postponed until 10.6 or later. It'd also be nice if Apple would finally make a decision about the successor to the HFS+ file system some time this decade.
What a long, strange trip it's been. Leopard turned out very differently than I imagined it would only a year ago. Despite some big disappointments near the end of its development process—the new Dock, the menu bar, more Finder floundering—the foundation is stronger than it's ever been.
Though this is not likely to happen, most of Leopard's biggest problems could be fixed in a 10.5.x point release. That's something that certainly could not have been said about any prior version Mac OS X. With Leopard, Apple has managed to snatch, certainly not defeat, but at least partial ignominy from the jaws of absolute victory.
The stage is set for Mac OS X 10.6 to triumph beyond the bounds of its ancestors. In the meantime, it's the Mac development community's opportunity to shine. Whether it reigns for two and a half years, like Tiger, or even longer, I'm looking forward to my time aboard starship Leopard.
(Caution: Dock slippery when wet.)
Mac OS X 10.6: Snow Leopard
Snow Leopard was released in 2009 to a very strange announcement from Apple: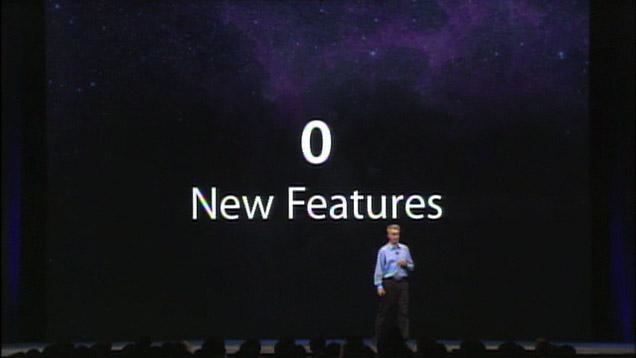 The company claimed it had nothing new to add to OS X except refinements that would make it faster and more polished than ever. Still, there were a few things that received a fresh coat of paint, such as Dock pop-over menus: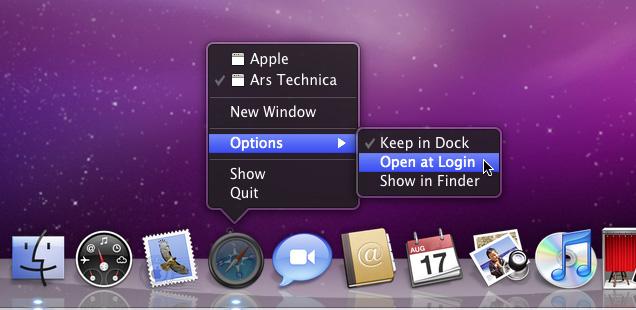 …and the ability to trigger Exposé from the Dock by clicking and holding on the Finder icon: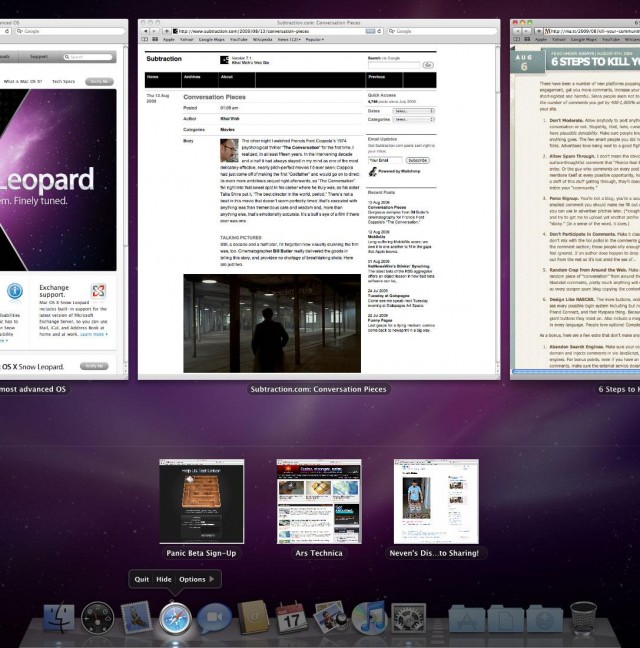 There was also in-place navigation in the Dock's folder grid view: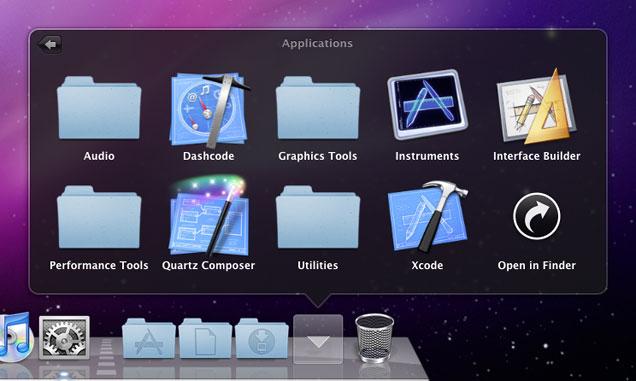 And Apple added the ability to use Core Location to automatically set your time zone within the OS: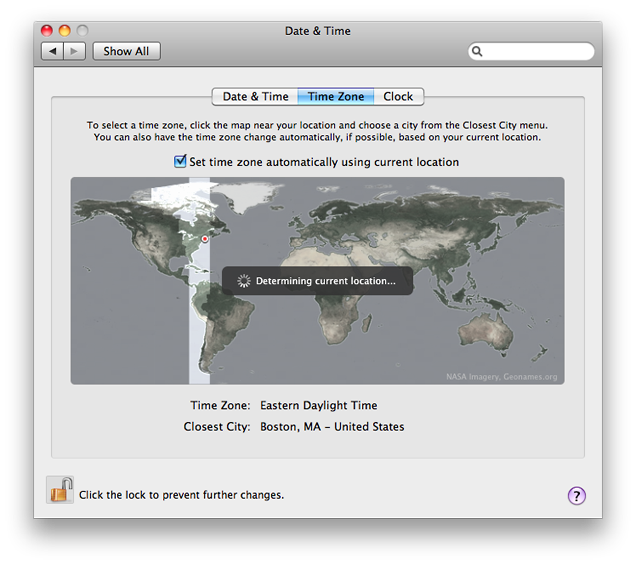 So wrote Siracusa, now basking in contentment:
Creating an operating system is as much a social exercise as a technological one. Creating a platform, even more so. All of Snow Leopard's considerable technical achievements are not just designed to benefit users; they're also intended to goad, persuade, and otherwise herd developers in the direction that Apple feels will be most beneficial for the future of the platform.
For this to work, Snow Leopard has to actually find its way into the hands of customers. The pricing helps a lot there. But even if Snow Leopard were free, there's still some cost to the consumer—in time, worry, software updates, etc.—when performing a major operating system upgrade. The same goes for developers who must, at the very least, certify that their existing applications run correctly on the new OS.
The usual way to overcome this kind of upgrade hesitation has been to pack the OS with new features. New features sell, and the more copies of the new operating system in use, the more motivated developers are to update their applications to not just run on the new OS, but also take advantage of its new abilities.
A major operating system upgrade with "no new features" must play by a different set of rules. Every party involved expects some counterbalance to the lack of new features. In Snow Leopard, developers stand to reap the biggest benefits thanks to an impressive set of new technologies, many of which cover areas previously unaddressed in Mac OS X. Apple clearly feels that the future of the platform depends on much better utilization of computing resources, and is doing everything it can to make it easy for developers to move in this direction.
Though it's obvious that Snow Leopard includes fewer external features than its predecessor, I'd wager that it has just as many, if not more internal changes than Leopard. This, I fear, means that the initial release of Snow Leopard will likely suffer the typical 10.x.0 bugs. There have already been reports of new bugs introduced to existing APIs in Snow Leopard. This is the exact opposite of Snow Leopard's implied promise to users and developers that it would concentrate on making existing features faster and more robust without introducing new functionality and the accompanying new bugs.
On the other side of the coin, I imagine all the teams at Apple that worked on Snow Leopard absolutely reveled in the opportunity to polish their particular subsystems without being burdened by supporting the marketing-driven feature-of-the-month. In any long-lived software product, there needs to be this kind of release valve every few years, lest the entire code base go off into the weeds.
There's been one other "no new features" release of Mac OS X. Mac OS X 10.1, released a mere six months after version 10.0, was handed out for free by Apple at the 2001 Seybold publishing conference and, later, at Apple retail stores. It was also available from Apple's online store for $19.95 (along with a copy of Mac OS 9.2.1 for use in the Classic environment). This was a different time for Mac OS X. Versions 10.0 and 10.1 were slow, incomplete, and extremely immature; the transition from classic Mac OS was far from over.
Judged as a modern incarnation of the 10.1 release, Snow Leopard looks pretty darned good. The pricing is similar, and the benefits—to developers and to users—are greater. So is the risk. But again, that has more to do with how horrible Mac OS X 10.0 was. Choosing not to upgrade to 10.1 was unthinkable. Waiting a while to upgrade to Snow Leopard is reasonable if you want to be sure that all the software you care about is compatible. But don't wait too long, because at $29 for the upgrade, I expect Snow Leopard adoption to be quite rapid. Software that will run only on Snow Leopard may be here before you know it.
Should you buy Mac OS X Snow Leopard? If you're already running Leopard, then the answer is a resounding "yes." If you're still running Tiger, well, then it's probably time for a new Mac anyway. When you buy one, it'll come with Snow Leopard.
As for the future, it's tempting to view Snow Leopard as the "tick" in a new Intel-style "tick-tock" release strategy for Mac OS X: radical new features in version 10.7 followed by more Snow-Leopard-style refinements in 10.8, and so on, alternating between "feature" and "refinement" releases. Apple has not even hinted that they're considering this type of plan, but I think there's a lot to recommend it.
Snow Leopard is a unique and beautiful release, unlike any that have come before it in both scope and intention. At some point, Mac OS X will surely need to get back on the bullet-point-features bandwagon. But for now, I'm content with Snow Leopard. It's the Mac OS X I know and love, but with more of the things that make it weak and strange engineered away.
OS X 10.7: Lion
OS X 10.7, also known as Lion, made its public debut in 2011. It was the first time Apple acknowledged that it was beginning to bring certain features from iOS back to OS X and Apple also dropped "Mac" from its moniker with 10.7. But first, there was the linen login screen: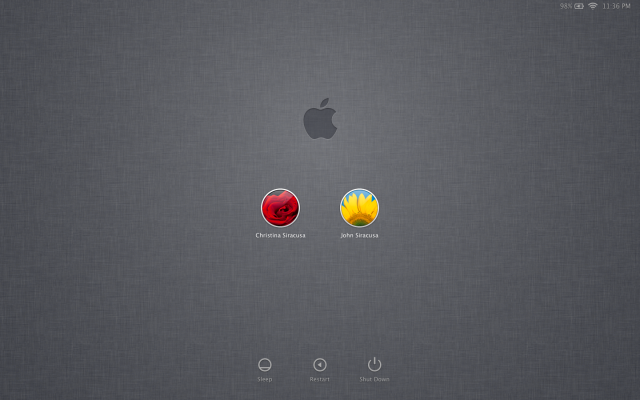 And a revamped, skeuomorphic version of iCal: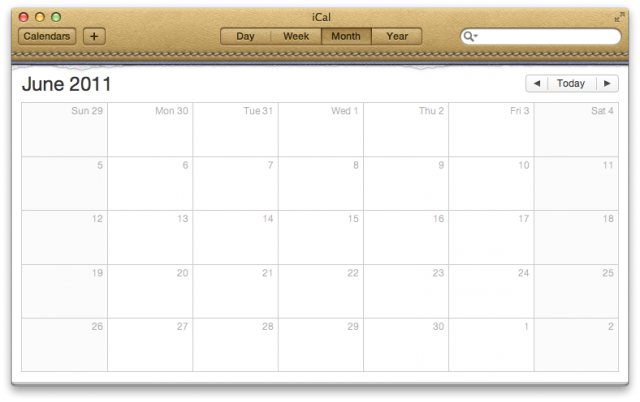 The Address Book design became more literal as well: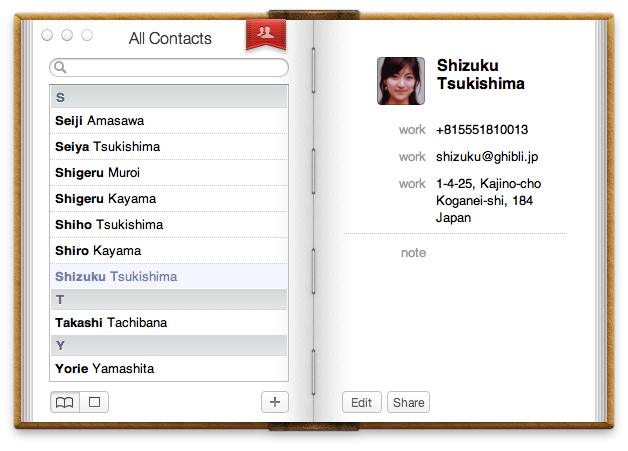 Apple consolidated Exposé, Dashboard, and Spaces into one main control panel called Mission Control: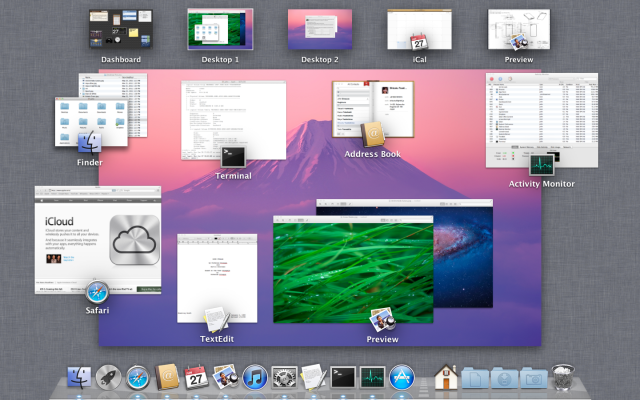 …and added a new feature called Launchpad, an "iOS home screen"-like way of launching apps without going to the Applications folder.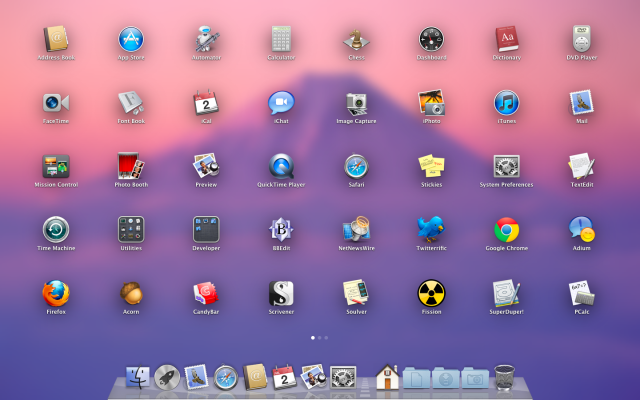 Here's what the Dock looked like in 2011:

And this is what offended Siracusa's sensibilities in Mail: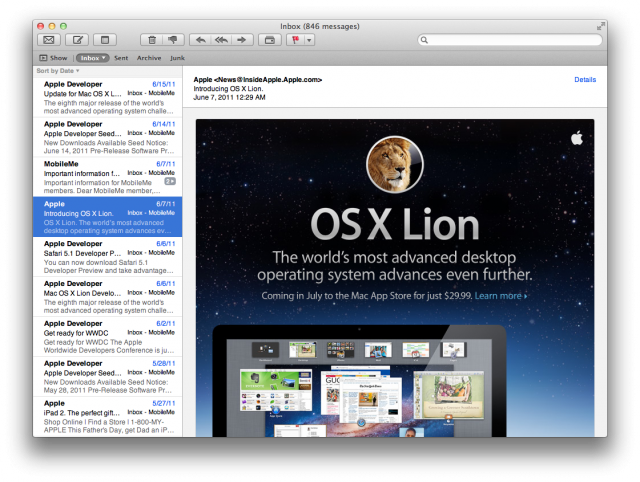 Siracusa concluded:
Though the Lion name suggests the end of something, the content of the operating system itself clearly marks the start of a new journey. Seemingly emboldened by the success of iOS, Apple has taken a hatchet to decades of conventional wisdom about desktop operating systems.
The same thing happened ten years ago in an even more dramatic fashion when Apple replaced classic Mac OS with Mac OS X. The new operating system changed the rules on the desktop, wedding composited graphics, smooth animation, and photorealistic artwork to a solid Unix foundation. Apple tried to leave all vestiges of its old operating system behind—the platinum appearance, the Apple menu, even the desktop itself—but eventually bowed to some demands of long-time Mac users. Lion's changes will no doubt meet with similar resistance from experienced Mac users, but I suspect Apple will remain unmoved this time around.
In the same way that Mac OS X so clearly showed the rest of the industry what user interfaces would look like in the years to come, Apple's own iOS has now done the same for its decade-old desktop operating system. iOS was less shocking to users because it appeared to come from nothing, and the mobile operating system conventions it defied were ones that nobody liked anyway. The same is not true on the desktop, where users cling like victims of Stockholm syndrome to mechanics that have hurt them time and again.
It may be many years before even half of the applications on a typical Mac behave according to the design principles introduced in Lion. The transition period could be ugly, especially compared to the effortless uniformity of iOS. In the meantime, let Apple's younger platform serve as a lighthouse in the storm. The Mac will always be more capable than its mobile brethren, but that doesn't mean that simple tasks must also be harder on the Mac. Imagine being able to stick a computer neophyte in front of an iMac with the same confidence that you might hand that neophyte an iPad today.
The technical details of Apple's operating system that were once so important that they practically defined its existence (e.g., memory protection, preemptive multitasking) are now taken for granted. Mainstream reviews of software and hardware alike spend far less time pondering technical specifications and implementation details than they did only a few years ago.
This phenomenon extends even to the geekiest among us, those who didn't just skip to the conclusion of this review but actually read the entire thing. Fellow geeks, ask yourselves, do you know the clock speed of the CPU in the device you're reading this on? Do you know how much RAM it has? What about the memory bus speed and width? Now consider what your answers might have been ten years ago.
Over the past decade, better technology has simply reduced the number of things that we need to care about. Lion is better technology. It marks the point where Mac OS X releases stop being defined by what's been added. From now on, Mac OS X should be judged by what's been removed.
OS X 10.8
Mountain Lion made its debut in mid-2012 looking more iOS-like than ever, with plenty of "new" apps and features brought over from the mobile side. For example, OS X gained a Notification Center: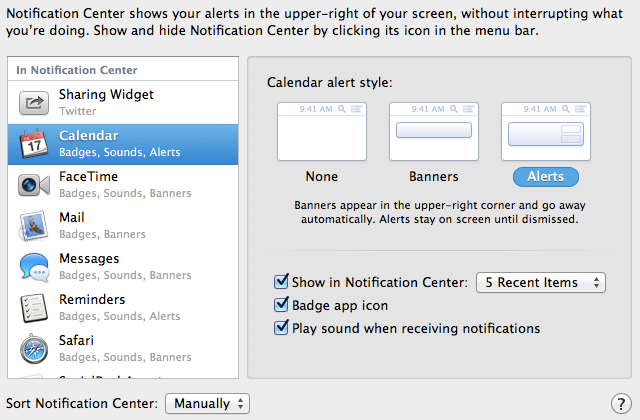 It also had support for voice dictation built into the OS: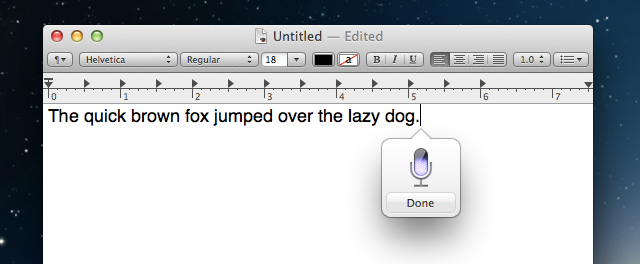 There were new Reminders and Notes apps to correspond with their iOS versions, synced over iCloud: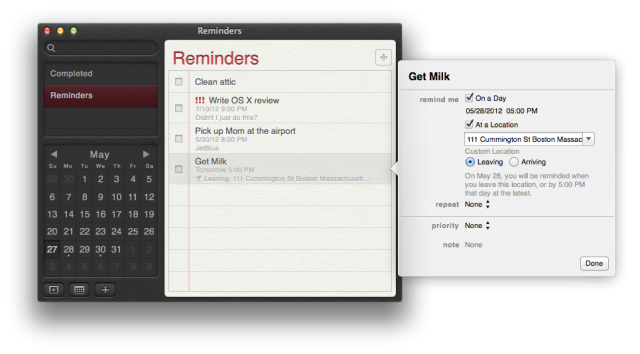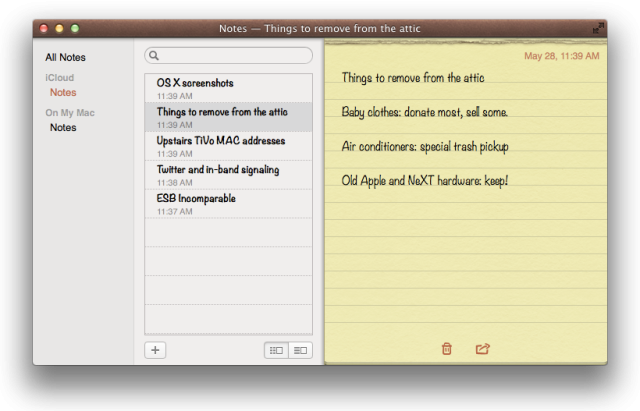 Apple also reworked iChat into a new app called Messages. Messages contained much of the same IM chatting capabilities of iChat, but gained the ability to send and receive iMessages—Apple's SMS replacement first introduced on the iPhone.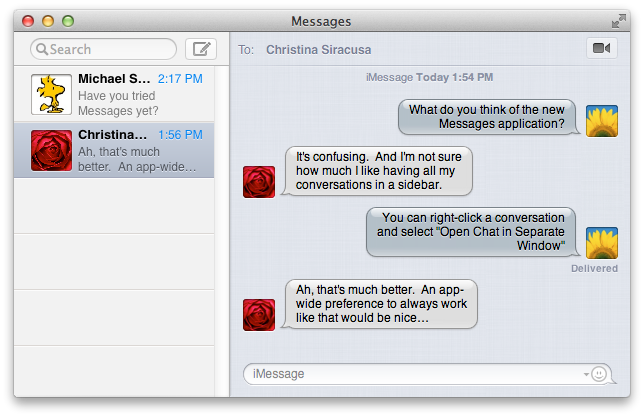 Like iOS devices, Apple's Safari also gained iCloud tabs, which allows users to see which tabs are open on their other Macs, iPhones, iPads, and iPod touches: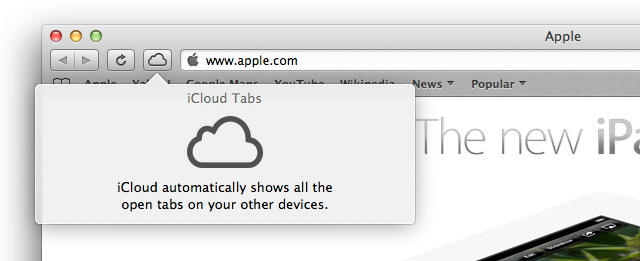 Annnnd the Dock of 2012:

Siracusa concluded his review with talk about a new journey for OS X, but one beginning from a place of strength almost unthinkable a decade ago:
Mountain Lion is not the Mac OS of the past, but it also sets a course to a destination that is quite distinct from iOS. Despite the oft-cited prediction that the Mac will eventually be subsumed by iOS, that's not what's happening here. Apple is determined to bring the benefits of iOS to the Mac, but it's equally determined to do so in a way that preserves the strengths of the Mac platform.
Where we Mac nerds go wrong is in mistaking traditions for strengths. Loss aversion is alive and well in the Mac community; with each "feature" removed and each decision point eliminated from our favorite OS, our tendency is to focus heavily on what's been lost, sometimes blinding ourselves to the gains.
But the larger problem is that losses and gains are context-dependent. A person who never uses a feature will not miss it when it's gone. We all pay lip service to the idea that most users never change the default settings in software, but we rarely follow this through to its logical conclusion.
The fact is, we are not the center of the market, and haven't been for a long time. Three decades ago, the personal computer industry was built on the backs of technology enthusiasts. Every product, every ad was created to please us. No longer. Technology must now work for everyone, not just "computing enthusiasts."
But let's not forget that this is actually a victory condition: the computer for the rest of us, now realized on a much larger scale. This new thing that the Mac is becoming, its outlines slowly coming into focus in Mountain Lion, is meant to allow people who were previously intimidated by the Mac to use it to accomplish more than they could with a touch-based platform like iOS, but with similar ease.
Then there's the Holy Ghost in Apple's platform trinity: iCloud. The war for the desktop ended years ago. (Spoiler alert: Microsoft won.) Today, history appears to be repeating itself as a slightly different set of players wage war for mobile supremacy. But many more things have changed besides the size of the hardware since the '90s.
Hardware devices, operating systems, and apps are just part of what it takes to be a player in today's platform wars. A full hand must also include a suite of network services to weave everything together. Of course Apple wants its hardware and software to be the best they can be. But the biggest threat to Apple's success is not the company with the most innovative devices and OS (arguably, still Microsoft); it's the one with the most powerful, successful suite of online services—Google.
In this context, the Mac's continued independence of character seems even more assured. Apple's online platform is the unifying force in its product line, not any one OS. Think of Mountain Lion as the best desktop iCloud client Apple knows how to make.
Over the past decade, Mac users made it through the most dramatic, unlikely, and successful operating system transition in the history of the industry. Last year, I noted that despite its king-of-the-jungle name, Lion was not the endpoint of a decade of Mac OS X development; it was the start of a new journey. Mountain Lion makes the eventual destination a bit more clear. Just hold on, my fellow Mac devotees, and we'll make it there together.
Quad Core Joey
Apple enthusiast, Google Geek, Long Time Nintendo Fan, Stay Wired In with us as we keep you informed on the daily Techie News as it happens