AMD spent the better part of 2012 releasing an entire line of 28nm GPUs, starting with the Radeon HD 7970 in January and followed by over half a dozen more cards throughout the next 8 months.
Late in the year we wrapped things up with our feature "The Best Graphics Cards: Nvidia vs. AMD Current-Gen Comparison" which saw Nvidia take out the $100 – $150 price bracket with the GeForce GTX 650 Ti, while AMD claimed the $150 – $200 range with the Radeon HD 7850.
As well-thought-out as the Radeon HD 7000 series was, we kind of hoped 2012 would mark the beginning and the end for the series, much as 2011 did for the previous generation. Expecting something entirely new was not to be, as we are now three months into 2013 and we find ourselves reviewing a brand new AMD graphics card that isn't based on a new architecture.
Rather what we have is the latest member of the Southern Islands family, designed to fill the gap between the Radeon HD 7770 and 7850.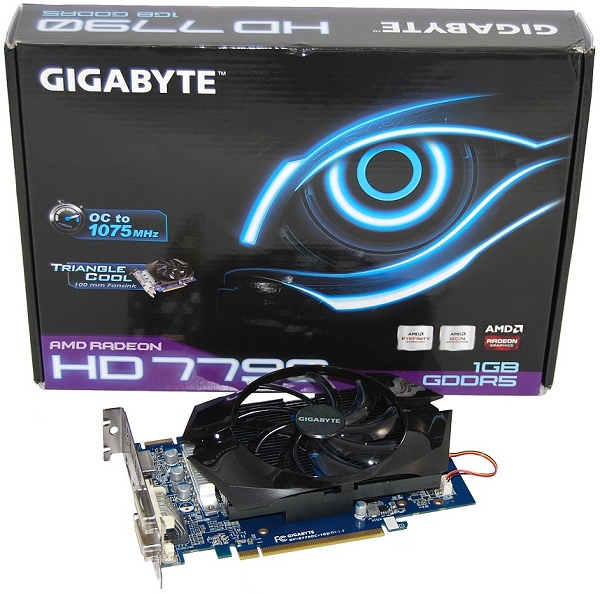 Not the most exciting product to be released, and its performance will be a far cry from what we saw with theGeForce GTX Titan last month. That said, the new Radeon HD 7790 is likely going to be of more interest than the GTX Titan to many of you for the simple reason that it is affordable and should be pretty good value as well.
The Radeon HD 7790 will be available in volume beginning April 2nd for as little as $150, which prices it smack bang between the 7770 and 7850. Current pricing has the Radeon HD 7770 at around $110-$120, while the7850 costs betwen $180 and $200.
Last time we checked the GeForce GTX 650 Ti represented the best value in this bracket, but it looks like AMD is trying to win us over.
Radeon HD 7790 in Detail
The Gigabyte Radeon HD 7790 we tested measured 19cm long, a typical length for a modern mid-range graphics card. Gigabyte's own version of the GTX 650 Ti measures 23cm long, though the actual PCB is quite shorter at a mere 14.5cm long. This new Radeon GPU core runs at 1GHz, which is the highest frequency for any Radeon card, matching the 7770, 7870 and 7970 GHz Edition cards.
The HD 7790 is clocked 16% higher than the HD 7850, while its GDDR5 memory is also faster at 1500MHz (6.0GHz DDR). Still, pairing that frequency with a minuscule 128-bit memory bus gives the HD 7790 96GB/s of theoretical bandwidth, which is actually a lot less than the old HD 6790.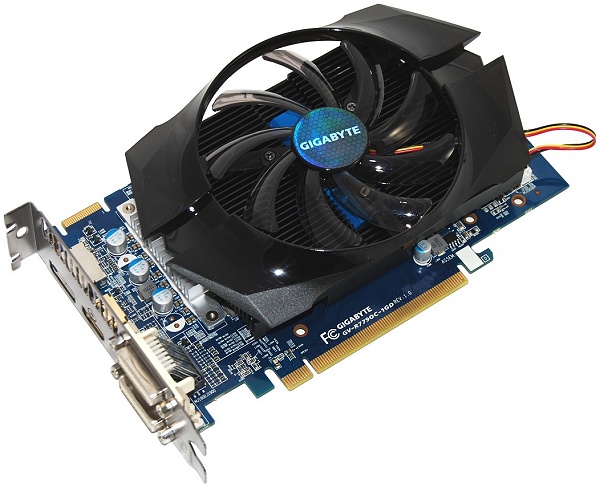 Gigabyte has overclocked their 7790 card from 1000MHz to a core speed of 1075MHz. However for the purpose of this review we have clocked the card back to the default AMD specification of 1GHz.
The HD 7790 comes loaded with a 1GB frame buffer, the same as previous-gen mid-range cards. We don't doubt that board partners will release 2GB versions, but because the HD 7790 isn't designed for extreme resolutions, 2GB models aren't likely to provide any performance boost.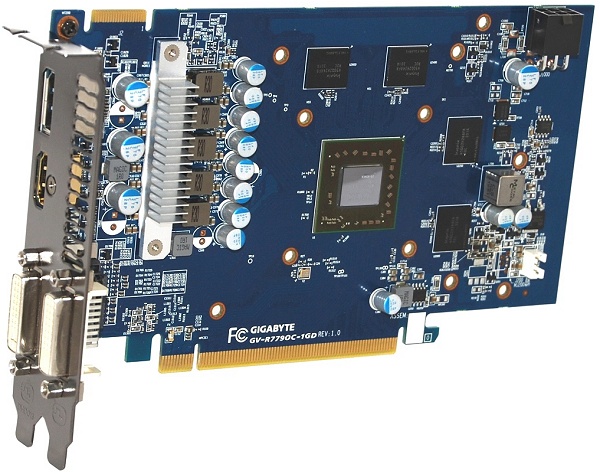 The HD 7790′s core configuration also differs from the HD 7770. This new GPU carries 896 SPUs, 56 TAUs and 16 ROPs. That's 40% more SPUs and TAUs, while the ROPs remain the same.
Gigabyte has chosen to cool the "Bonaire XT" GPU using their own custom design which employs a massive 95mm fan. Under this fan is a relatively small aluminum heatink measuring 11.5cm long, 9cm wide and at its thickest 2cm tall. While that might sound like a decent size heatsink, by graphics card standards it is actually quite small.
The HD 7790 operates at near silence because even under load it only draws 85 watts and as little as 3 watts at idle, courtesy of the ZeroCore Power technology.

To feed the card enough power, AMD has included a single 6-pin PCI Express power connector — the same setup you'll find on the HD 7770, 7850 and GTX 650 Ti, as well as numerous other mid-range graphics cards.
Naturally, the HD 7790 supports Crossfire and so there are a pair of connectors for bridging two cards together. The only other connectors are on the I/O panel. The AMD reference version has a dual DL-DVI connector, a single HDMI 1.4a port and two Mini DisplayPort 1.2 sockets. The Gigabyte version is a little different as it employs a pair of DL-DVI connectors, a single HDMI 1.4a port and a standard DisplayPort socket.
Testing Methodology
As usual we tested each card with Fraps, which lets us record the average frame rate in seconds over a set amount of time. Typically, we run our tests for 60 seconds. Reporting the average fps (frames per second) is how things have been done for… well, forever. It's a fantastic metric in the sense that it's easy to record and easy to understand. But it doesn't tell the whole story, as The Tech Report and others have shown.
To get a fuller picture, it's increasingly apparent that you need to factor in a card's frame latency, which looks at how quickly each frame is delivered. Regardless of how many frames a graphics card produces on average in 60 seconds, if it can't deliver them all at roughly the same speed, you might see more brief jittery points with one GPU over another — something we've witnessed but didn't fully understand.
Assuming two cards deliver equal average frame rates, the one with lowest stable frame latency is going to offer the smoothest picture, and that's a pretty important detail to consider if you're about to drop a wad of cash. As such, we'll be including this information from now on by measuring how long in milliseconds it takes cards to render each frame individually and then graphing that in a digestible way.
We'll be using the latency-focused 99th percentile metric, which looks at 99% of results recorded within X milliseconds, and the lower that number is, the faster and smoother the performance is overall. By removing 1% of the most extreme results, it's possible to filter anomalies that might have been caused by other components. Again, kudos to The Tech Report and other sites like PC Per for shining a light on this issue.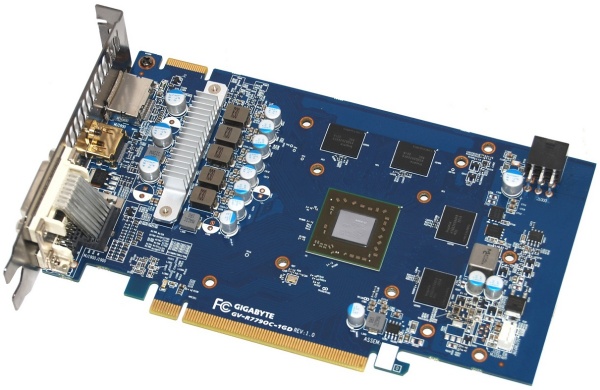 Test System Specs
Intel Core i7-3960X Extreme Edition (3.30GHz)
x4 2GB G.Skill DDR3-1600(CAS 8-8-8-20)
Asrock X79 Extreme11 (Intel X79)
OCZ ZX Series (1250W)
Crucial m4 512GB (SATA 6Gb/s)
Gainward GeForce GTX 660 Ti (2048MB)
Gigabyte GeForce GTX 660 (2048MB)
Gigabyte GeForce GTX 650 Ti (1024MB)
HIS Radeon HD 7870 (2048MB)
HIS Radeon HD 7850 (2048MB)
HIS Radeon HD 7770 (2048MB)
Gigabyte Radeon HD 7790 (2048MB)
HIS Radeon HD 7750 (1024MB)
Microsoft Windows 7 Ultimate SP1 64-bit
Nvidia Forceware 314.21
AMD Catalyst 13.3 (Beta 2)
AMD Radeon HD 7790 (12.101.2.1-130313a)